As many of my colleagues will tell you, one of the hardest things about becoming a wedding photographer is getting that first gig. Nobody will even talk to you unless you have a portfolio, and it's nearly impossible to build a portfolio unless there's someone who will give you that first chance to begin with. I spent my first year as a budding photographer by "testing the waters" amongst my circle of friends, and by that I meant chasing down every new relationship-status update on my Facebook friends list (and subsequently getting quickly unfriended by most of them). I couldn't get most folks to return my messages even when I was offering my services for FREE! Â It took almost two years of begging, pleading and offering my services waaaay-below market value before I had some semblance of a portfolio. Â Before I was able to find my place in this vast and complex world of wedding photography, my early work somehow caught the eyes of four of our very beautiful couples,
three
of whom were
married this year
. Christine and Chalita would be #4, and we're beyond thrilled and honored to be there for them on their special day. It's no exaggeration when I say these awesome folks are the reasons why I'm a wedding photographer today. Even before
I
believed I would ever become more than just some guy with a camera,
they
believed in my passion, my vision and my ability to tell their once-in-a-lifetime story. These are the folks who would change my life forever. I remember discussing Christine and Chalita's wedding plans over french pastries in a quiet bakery back in my home state of Maryland. Christine casually mentioned that she'd been following my work from my very early days, and was amazed at the rate at which I was growing – not only as a business but also as a photographer. "If your pictures look this great now, I just can't imagine how awesome they'll be on our wedding day…two years from now!" I was absolutely speechless. Not because these two lovebirds actually believed that I would still be in business when their wedding date rolled around, but because they truly, genuinely enjoyed my work. If there's one thing I've learned growing up, it's that if a little pressure will get you some things in life, then flattery will get you absolutely everything :).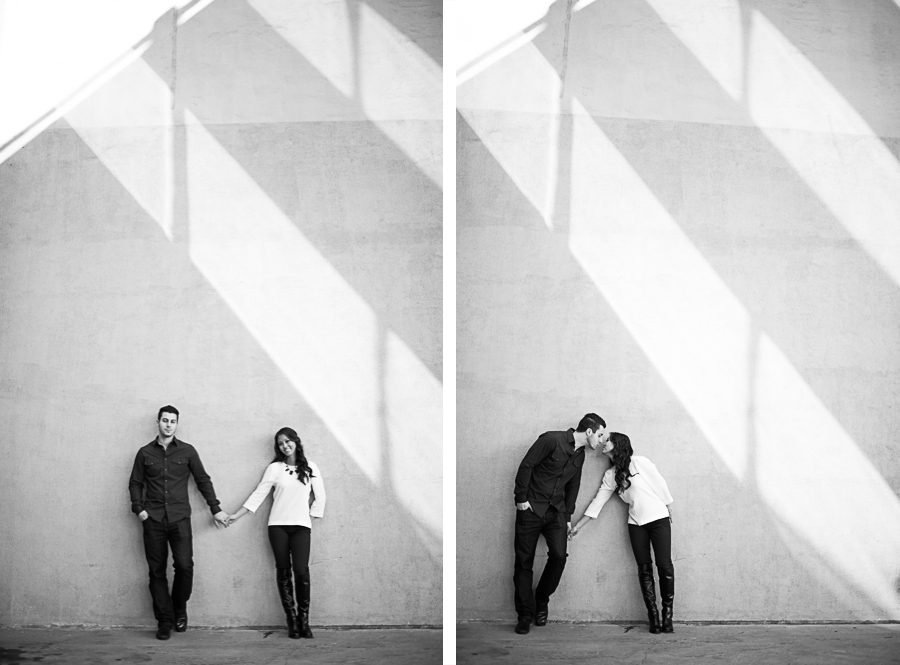 We took the streets of our former stomping grounds of Georgetown, a stone's throw away from our alma mater of University of Maryland. (The 3 of us attended when our basketball team was actually half-decent!)
So here's a funny story about that last set in Great Falls, Virginia (or Maryland…I'm not entirely sure at this point). We've seen photos of this location before, and these two were pretty sure it involved a 40 minute hike into one of the many trails at the park. I was totally game since (as you can see), it's a pretty awesome shooting location. It didn't occur to us till 30 minutes into our hike that our Lord of the Rings-like journey wasn't taking us anywhere remotely close to what we saw in the pictures. In fact, we were climbing higher and higher into the mountains with an unanticipated, increasing degree of difficulty. And as if the hiking part weren't hard enough, trying doing it in your nice going-out-engagement-session clothes! Feeling somewhat dejected, we decided to call off our search for this holy grail location and headed back to the parking lot. And there it was; we had apparently walked right past this über-secret place when we were coming in from the parking lot. So the good news is that we did eventually find the precise location they wanted for their engagement session, but the greater news is that we had one helluva cardio work out! Everybody wins :). Christine and Chalita, thank you for hanging out with yours truly for such a fabulous day. But most importantly, thank you for believing in our vision and the opportunity to tell your story. We hope you enjoy these images and we look forward to seeing you guys again next year! Ben & Karis